Barry Larkin Premium Autograph Ticket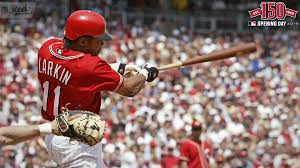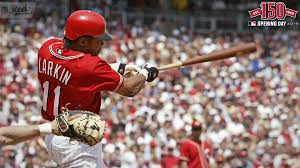 Barry Larkin Premium Autograph Ticket
BARRY LARKIN Autograph Signing AT SPORTS GALLERY
SUNDAY AUGUST 18th, 2019 NOON-2PM

Autographs go on sale Saturday June 22nd at 10:00am
Purchase by phone, In person at shop or on line at cincysportsgallery
A line number will be assigned at time of purchase. The earlier you buy the earlier in line.
There will also be a VIP photo opportunity with this signing.

BARRY LARKIN PRICING

$75 each on your jersey, bat, equipment, base, full-sized helmet, stadium seat back, large over sized posters, paintings, signs or similar large items

ALL INSCRIPTIONS ARE $15 EACH
Inscriptions are limited to 4 words or less

SPECIAL BACK ROOM PRICE ON STANDARD SIZE BASEBALL CARDS $45 EACH.

Cards must be mailed in or dropped off for BARRY to sign in the back room to get this special price. Shipping back to the customer will be $4 in our padded mailer with tracking.
Of course you can pickup your card(s) without having them mailed.

NO ENVELOPE WITH A STAMP FOR RETURNS ACCEPTED

Don't need autographs? No problem you can still do the VIP photo opportunity.

The regular line will start following the VIP participants.

You can take a photo of your item getting signed, and or a selfie / quick "lean in" style from the front of the table. No behind the table photos at this event. Because of time constraints we simply cannot allow every single person a posed photo behind the table.

We will do mail order or take drop off items for folks who can't make the event. We charge $5 more per item for this service plus shipping.

There will be a credit card / service fee per ticket purchased.

513-759-4256
Sports Gallery is the place to find investment quality Cincinnati sports collectibles and memorabilia.
We are open

Tuesday thru Friday 10am to 6pm

Saturday 10am to 3pm

Monday special by appointment only

Closed on Sunday

Sports Gallery

1161 Smiley Avenue

Forest Park Ohio 45240

513-759-4256